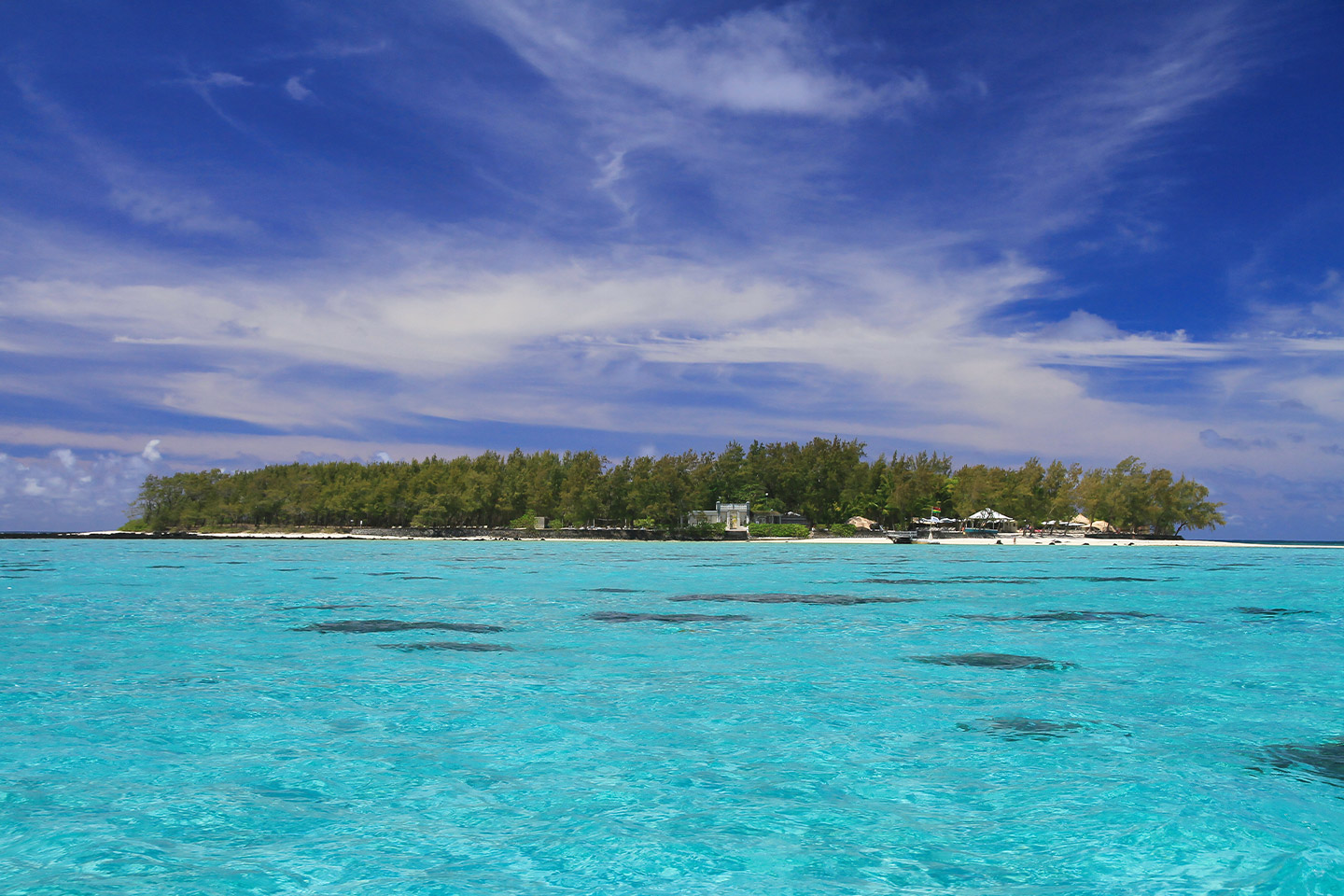 Confidential boat trip to Mauritius
Ever dreamt of being like Robinson on a private islet, yet fully equipped with all of Mauritius' luxury amenities? Join us on a journey through this small, unspoilt paradise in the heart of the Blue Bay Marine Reserve for an exceptional day out to be enjoyed to the full with your family.
Ile aux Deux Cocos, Mauritius : A private and unique paradise
With turquoise waters, crystal-clear lagoons, colourful fish and coral, if you thought you had experienced everything Mauritius has to offer, there is something unexpected and idyllic in store for you: the island of Deux Cocos, an exclusive site located in the south-east, near the Blue Bay Marine Park. This islet offers crystal-clear, palm-fringed beaches and a real aquarium within snorkeling distance.
The islet was used as a summer residence for former British governors a hundred years ago. A splendid residence, a perfectly maintained luxury villa with Moorish accents, a panoramic swimming pool, elegant Bedouin tents and most importantly, a dedicated team to make sure you have a great day out.
Welcome to the island
After enjoying a motorboat or glass-bottom boat ride to start the day, dock at the island's pier, where our staff greets you with a refreshing drink. The place is exceptionally beautiful and ideal for Instagramming. Make yourself comfortable, take your bearings and dive into the warm waters inhabited by an array of underwater flora and fauna.
Once you've had a chance to explore, relax on the sun loungers and enjoy the peace and quiet of the lagoon's extraordinary colours.
Have lunch with feet on the sand
Choose to have lunch on the beautiful terrace overlooking the sea or the Moorish style sofa in the white pavilion, as you wish. Our excellent buffet and grilled meats are served with wine, beer or soft drinks.
Take a break from sipping on a house rhum and relax in a hammock overlooking the sea. Soak up the song of the wind and birds under the filaos along with the roar of the waves on the rocks.
Time for action
Once you have had your time to rest, make the most of the afternoon to join in the fun activities proposed: an exciting game of beach volley, a petanque tournament, a frisbee game or a match of giant chess?
Unless you succumb to the ocean's spell and head back to explore the splendid seabed. The only rule at the Ile aux Deux Cocos is: You come first and your pleasure is our priority!
The Ile aux Deux Cocos is exclusively managed by a private hotel group, so reservations are required. Please enquire at your concierge desk and enjoy this enchanting experience.