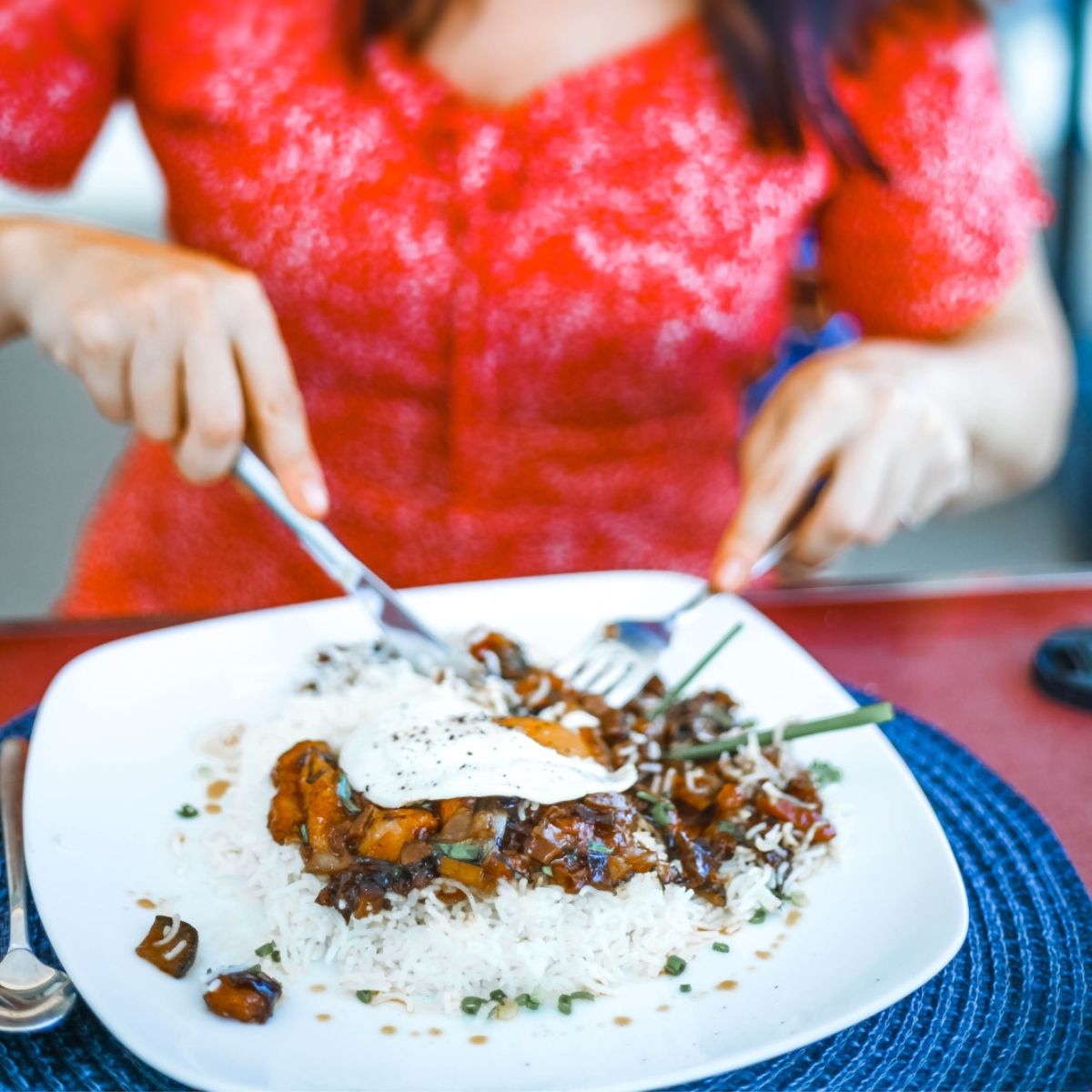 Typical cuisine from L'Atelier, Mauritius
Your stay at Mythic Suites & Villas will be an unforgettable discovery of the many tasty dishes of Mauritian gastronomy. Out of this fascinating multicultural melting pot has emerged a delightfully mixed cuisine, high in colour and exotic flavours, influenced by Creole, Asian, European and African cultures. Surprise yourself with our range of typical recipes served in our restaurant, l'Atelier, Mauritius.
A taste of Mauritius on your plate at L'Atelier
No need to leave the resort to be introduced to Mauritian cuisine: l'Atelier serves our residents and guests a new menu with typical local dishes. Featuring the finest produce, some from our eco-friendly garden and the best local and regional suppliers, our dishes are lovingly concocted by our Chef Vijendra Kundun and his team. Daily catch, fresh vegetables and fruits, local meats and venison, exotic spices: we aim at providing the tastiest of what Mauritius has in store.
Manze lakaz" – an original and innovative formula of L'Atelier, Mauritius
Both in the restaurant and in the Suite or Villa, l'Atelier proposes a mouth-watering menu of local dishes of the day called "Manze lakaz", which means " Home-style cuisine ". The concept? Each day a typical dish served with a daily dessert. Experience the authentic, varied and original local cuisine Mauritians are fond of every day.
The most popular dishes of Mauritians
A must try dish in Mauritius, the Chicken, Eggs and Shrimps Upside Down Bowl is a very popular Chinese dish, served as a dome of rice mixed with various ingredients. It is also a popular street food meal at lunchtime. Another popular Chinese speciality is Salted Fish Fried Rice (called snoek here), with omelette, curry leaves and mushroom soy sauce.
Also on the menu is the typical recipe of many households, the Fish and Bringelles (aubergines) / White Rice / Dry Grains Curry, which enhances the fish caught that day.
More refined but just as succulent is the Dry Beef Curry / White Rice / Cucumber Salad, a dry curry, consisting of meat flavoured with curry and very little sauce.
French influence crossed with local flavours
L'Atelier brings a new twist to authentic Mauritian cuisine by offering a dish full of flavour: The Chicken Salmis / Cucumber Salad / White Rice / Fricasseed Black Lentils.
Another delicious treat that combines French tradition and local products is our Stir-fried Beef with Onions / Watercress Broth / Tomato Chutney / Fried Potato Ring. A quick visit to Rodrigues
One cannot fail to enjoy the Rodriguan cuisine and the delicious local pork dishes with the Rodriguan Rougaille Saucisse / White Rice and Lentils Fricassee. The Rougaille is a very spicy and tasty meat and tomato dish.
Each of the local dishes comes with three different achards, marinated or pickled vegetables that add to the flavour of the dish. At the Atelier or on delivery, check out our traditional dishes and book with our concierge.